St. Norbert student wins 'Pitch' competition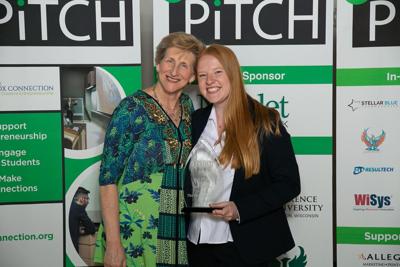 St. Norbert College senior Brianne DeLain of Appleton, took first place in the collegiate "Pitch" competition held at Fox Cities Stadium April 19.
The competition looks to highlight young entrepreneurs and provide them with the resources and support needed to give their idea a shot. 
"My pitch was a rainwater collection system that would be utilized on recreational vehicles," said DeLain. "There is a growing number of people in the U.S. who are beginning to live off the grid in nature with their rigs. This system allows them to take longer trips in the great outdoors by providing them with a filtered drinkable water source wherever they are," she added.
DeLain pocketed $10,000 plus $15,000 of in-kind services such as startup financial consulting, marketing, e-commerce support, patent drafting services and prototyping design.
"I was absolutely on cloud nine. I had poured so much dedication into this project/pitch," said DeLain. "The best feeling was being reassured that my idea and concept had as much value as I thought."
After graduation on May 14, she plans to travel in her 1982 renovated Toyota Dolphin RV, work in graphic design or online marketing, and see where her rainwater collection system will go. DeLain will graduate with a business administration major and a minor in graphic design.
Besides St. Norbert, DeLain competed against other students from Lawrence University, UW-Green Bay and UW Oshkosh. Other winners were:
Second Place: Michaela Heling, Protean Footwear (Lakeland University) — $7,500 cash and $7,500 in-kind services;
Third Place: Mitchell Bell, Engineering Solutions for Video Communication (UW Green Bay) — $5,000 cash and $5,000 in-kind services.
Judges were Kabinga Maini of Plexus, Matthew Kee of Tundra Angels, Chloe Kinderman of Titletown Tech, Richelle Martin of Winnow Fund, and Taylor Reetz of Nicolet National Bank.
From Insight Publications, April 24, 2023
Original Link: https://www.insightonbusiness.com/latestnews/st-norbert-student-wins-pitch-competition/article_fabb74d8-e2de-11ed-bbba-df2324289b0a.html